About Margaret McIntyre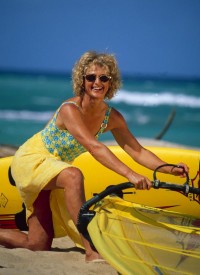 Feldenkrais Guild® certified assistant trainer and practitioner, physiotherapist, certified ski instructor

Margaret is a highly experienced Feldenkrais® practitioner. She not only works with people in difficulties and pain, she has developed a clear and straightforward way to help people improve any activity and she has made a specialty of improving sports performance. She lived and worked in Vail, Colorado fulltime for 20 years, founding internationally known Integrated Skiing and Integrated Snowboarding seminars. Margaret started life as the sports "klutz", no ability or confidence, but in her mid 30s discovered Feldenkrais. Her personal story of finding she can do anything and do it well, is a testimony to the work.

She moved to Maui following her passions for windsurfing, surfing, good health and wellness, but returns to Vail each winter to teach and further develop her "mind/body" ski programs, now called Dynamic Skiing for Life. In her mid 60s, she continues to expand her own horizons in work and play. She is committed to helping others realize their potential in the activities they love, be it simply enjoying a walk on the beach or improving performance at all levels.

Margaret is a "down under" transplant, Australian born but spent her childhood in New Zealand. She graduated in Physiotherapy in Melbourne, Australia in the 60s and then moved to the USA in the late 70s to start a new and different life in Colorado. She became intrigued with the powerful interaction between mind, body and emotions and how this related to improvement of self-use. Once she discovered Feldenkrais, she had no hesitation in pursuing this avenue of inquiry. One of the most powerful reasons for her to choose Feldenkrais was the extraordinary scope of this work.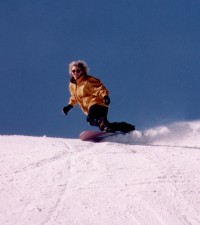 Margaret graduated from the 3rd Feldenkrais Professional Training Program in the USA in 1986. The work was still relatively new in this country as the first practitioners in the US graduated less than 10 years before, so a pioneering spirit was needed to get the work known. She was living in Vail, Colorado, teaching skiing in this world-renowned resort and she took her new Feldenkrais learning back to Vail and not only dramatically improved her own skiing, she introduced the work into Vail and Beaver Creek ski school and the community. Feldenkrais was not a household name, but she got the opportunity to meet people from all over the world and to work with some fine journalists who wrote articles and promoted the cutting-edge, mind/body approach she was developing as a sports educator. She taught wellness programs and sports improvement seminars as well as developing a thriving private practice.

Her desire to delve more deeply into the method stimulated her to become an assistant trainer and she worked in many different training programs in Australia, New Zealand and the USA. This was deeply rewarding work and she loved working with the students, learning with them and from them as well as being in the role of teacher.

Margaret now lives on the beautiful island of Maui. But because of her passion for skiing and the mountains and her love of teaching her Dynamic Skiing for Life/Integrated Skiing seminars, she is dividing her time between two of the most beautiful and interesting places in the world — not too much of a hardship!

Margaret can still be persuaded to travel occasionally to New Zealand, Australia, England or Italy to give seminars and personalized intensive training sessions.
Snapshot
Born: Australia
Raised: New Zealand
Graduated: Physiotherapy; Melbourne, Australia
Feldenkrais Professional Training Program
Lived: Vail, CO - 20 years
Currently: Maui, HI
Passions: Skiing, Windsurfing
"What I'm after isn't flexible bodies, but flexible minds and to restore each person to their human dignity."
— Moshe Feldenkrais
What Her Clients Are Saying...
"I had neck and shoulder pain for 9 years and Margaret worked gently with me for 20 minutes and the pain has gone and not returned."
— Larry Yamada