Dynamic Skiing for Life *NEW FORMAT this season
December 11-15, 2016
Antlers at Vail - Vail, Colorado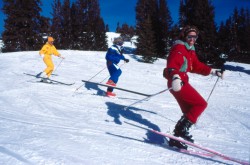 Serious fun for experts and intermediates.

The indoor/outdoor "whole body" ski experience that will make you a better skier in a few days.

I'm a believer! In one short weekend I moved from an upper level intermediate to a beginning expert level.
 —Steve Berkowitz, Chicago, Illinois

*New format - more flexible Dynamic Skiing program with an emphasis on personal attention and extra indoor work if requested. No formal ski instruction included in the cost, therefore I can offer it at a much reduced price, but plenty of time to ski and experiment with the new learning. Some of the class topics included will be balance and movement symmetry as well as other ski specific skills. The Antlers is once again hosting this unique and proven program, located just a few steps from the Lionshead gondola, it is quick and easy to come and go from the venue to the slopes.*

Margaret teaches her highly successful program in Vail, Colorado. This program, now in its 27th year, specifically teaches skiing movement awareness indoors, before going out on the slopes! This ingenious and time proven method creates real learning that 'sticks'! You get to feel for yourself the joy and freedom of "dancing with the mountain", "playing with gravity" and with your new-found skills and technique you will develop control in all kinds of snow conditions.

My bump skiing has improved as well as my weaker side turn. This is the missing link in sports instruction.
 —Brent Root, Vail and Beaver Creek Ski School

Margaret blends her extensive knowledge of skiing and ski teaching with The Feldenkrais Method® of sensory/motor re-education to give your body and mind ski specific awareness. This awareness turns into action by dramatically improving balance, control, symmetry, coordination and movement efficiency. You will ski better with less energy, more ease, more polish!


Video credit: Jim Penhale, Intermountain Productions and Adventure Video

The Feldenkrais system has helped me improve my skiing and has added, generally, to my enjoyment of life. My breathing was steady, and at the end of the day, my upper legs were not tired! 
—Herb Rousso, 73 years old, Marina Del Ray, California

We are creatures of habits. Feldenkrais® gives you the tools to move better and replace ineffective bad habits with good ones that allow you to ski your best. And that's just the beginning. Instead of simply imitating other's movements, you will develop an inner understanding, becoming your own best teacher.

"As one of the 'disbelievers,' I am now a convert! I went skiing for the first time 4 weeks after the workshop, and I and my family are amazed at the changes. After skiing for 40 years in a stiff, legs bolted together, upright position, I am now fluidly moving my body. I am confidently negotiating the bumps and for the first time in my life, my left turn is only slightly less smooth than my right. Skiing has always been a joy, but now I can't stop smiling while I ski." —Marty Dubin

You ski for the challenge. You ski for the exercise. But most of all you ski for the sheer joy of it. And we guarantee plenty in your Dynamic Skiing for Life seminar at Vail, Colorado. Try it – it works!

Join the Movement Movement.

When you ski efficiently without stressing your body, you'll enjoy the sport throughout your whole life, instead of giving up something you love, because your body can't keep up!

A couple more quotes from participants:

I had one of my best ever competitions after doing Feldenkrais.
 —Troy Watts, former member of the US Ski Team

"I skied with such control, I was bored! Then we went to the top of the mountain, and I was so delighted to have that control. NO FEAR for the first time!" —Ann Felderman

Click here for more information about the Antlers at Vail, the location of Dynamic Skiing for Life in Vail, Colorado.

Interview with Margaret on TV8:


Registration Information
You can sign up for the program either online or by mail. Choose your preferred option below.
---
Option 1: Register online. Regular class price is $850.
---
Option 2: Register by e-mail or post mail. Download the following form, fill it out and send it in.

Registration Form
---
Lift Tickets: For the best value, purchase an Epic Pass directly from Vail Resorts to get unlimited access to all Vail Resorts ski areas for the 2016-2017 winter season. Click here to learn more. Price may increase as opening day nears - currently $809.00 as of 8/1/16.
---
Additional class forms and information:

Skiing Assessment
Questionnaire
Class Schedule
Related Links

---
Lodging: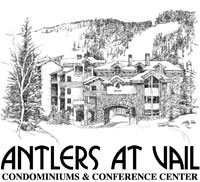 If you'd like to stay at the Antlers at Vail, you can book your lodging by clicking here, or call 1-800-843-8245 or 1-970-476-2471. Be sure to ask for the Dynamic Skiing for Life Seminar special discount, or if you're booking online, type in the Group ID of DYNAMIC to get the group discount rate.
"What I'm after isn't flexible bodies, but flexible minds and to restore each person to their human dignity."
— Moshe Feldenkrais
What Her Clients Are Saying...
"Margaret's Dynamic Skiing for Life seminar was an amazing breakthrough experience for me. I now feel much more fluid in my skiing movements and find that I can ski all day without feeling nearly as tired or sore. I have also suffered from the pain and long recovery of an ACL replacement with associated compensation injuries. I am now so much more aware of how my body is moving in relation to my equipment and the slopes beneath me, and the resulting improvements I've made in my technique are astounding. The seminar was extremely well-structured and well-paced, the instructors were unmatched in their ability to translate and build on the indoor movement exercises while out on the slopes.

Margaret is truly an inspiration and I only hope that I can be as active and full of life as her for the rest of my life. I would highly recommend this program to anyone looking to ski with more confidence and less effort, and who want to share the experience with a wonderful group of people."
— Jessie, 26 (ACL replacement knee surgery)