Dynamic Skiing for Women Only at Beaver Creek - FULL
January 8-11, 2018
SaddleRidge - Beaver Creek, Colorado

Created by internationally recognized sports and movement educator, Margaret McIntyre, this new program, Dynamic Skiing for Women at Beaver Creek, skillfully uses innovative Mind / Body techniques to directly enhance ski performance and confidence. This program offers a real breakthrough in sports instruction producing tangible, lasting results.

THE PROGRAM: DESIGN & BENEFITS

• EXCLUSIVE/PERSONALIZED - Limited to six women participants, two highly skilled female ski instructors and Margaret, this format becomes almost like a private lesson but with the added benefit of being part of a small group of motivated women.

• WELCOME EVENT - A very important component of the program, to meet each other and the ski instructors and to set personal goals the prior evening, in an informal atmosphere.

• INDOOR/OUTDOOR LEARNING - A sophisticated and integrated Mind / Body approach using gentle, guided, ski-specific movement awareness, combined with individually-tailored, on-snow coaching. The ski instructors skillfully weave the indoor learning into the on-snow, skiing experience. Gravity becomes your friend not your foe!!

• ONE ON ONE - Time with program creator Margaret – each participant will receive a "hands on" individual session with Margaret to address, more specifically, any issue that is relevant to them, be it ski related, postural, recovering from an injury and more.

• EFFECTIVE - Easily change old habits and become the skier you dream to be!!! This program creates learning that lasts, and gives you more confidence as you feel and understand how your whole body and mind is involved in the art of skiing. As you continue to develop your skills you will become your own best teacher. Discover effortless, graceful, powerful movement,

• SUPPORTIVE - Not competitive!! Women only, and great instruction indoor and out - reap the benefits of learning and having fun in a small supportive group of women and celebrate. Lunch together as a group every day on the mountain in a pleasing location.

• LIFE CHANGING!! - Discover the confidence and the joy of letting go and dancing with the mountain!! Everything you learn about yourself and your skiing translates into life.

• FUN!! - Find new friends, and celebrate your successes with like-minded adventurous women!! Keep on doing the sports and activities you love!! Getting older, getting wiser, getting better!!!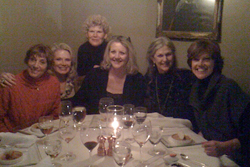 WOMEN ARE SAYING:

Your program has had a profound effect on me in my every day mobility and in my skiing. In general movement everything feels light, effortless and oiled; I'm ready to walk, dance and run with a level of energy and youthfulness that I don't normally feel. In my skiing Feldenkrais has totally changed my ability to move and respond to the snow and terrain beneath me. I'm quicker on my feet, able to move more nimbly and fluidly, and have my weight better positioned, so skiing feels more like floating than ever. My legs and body don't ache after a day on the slopes and skiing feels easy and enjoyable, rather than effort and hard work. I have a feeling of exquisite centeredness, where I can recover easily from wobbles and snow snakes, as if nothing could possibly knock me over! —Lynne

An inner focus to learn how you move so that you then can move the way you know - naturally, with comfort and confidence. —Joy

Noticing all of our body parts tunes the complete person. —Patti

After a session of Feldenkrais® with Margaret my body (and mind) feel light, centered and energetic. This has translated into my skiing allowing me to connect with my skis and the mountain confidently and effortlessly - in a way that I have never done before. —Sue

Letting Go • Using my whole body to move effectively • Feeling the snow and the fall of the mountain and letting my body get in the zone. —Rhea

An amazing program that incorporates Feldenkrais movements with skiing. Margaret and her instructors take your skiing and body to a new level for women who want to enjoy skiing and life for a very long time! You share this wonderful mind, body and spirit experience with women full of life and vitality. Margaret, with her soft spoken voice, has created an AAA program that leaves you exhausted and exhilarated at the end of each day. —Carol

I was looking for an opportunity and challenge to increase my skiing efficiency! Margaret's specialty in "awareness through movement" and the Feldenkrais application to skiing with two top instructors for three days was awesome. Additionally nine new ski friends for life. Yes, outstanding and life changing! —Wendy Evans, California/Vail resident

MORE INFORMATION

Program includes all indoor and outdoor instruction, welcome event, one-on-one session with Margaret, daily lunch on the mountain, dinner at SaddleRidge.

Founded by Margaret McIntyre, a fully-certified ski instructor, ski school trainer, Feldenkrais® practitioner and assistant trainer, physiotherapist and creator of the internationally recognized Dynamic Skiing for Life program now celebrating its 27th season.

Intermediate skiers and up are welcome.

Lift tickets, lodging and ski equipment not included.


Video credit: Jim Penhale, Intermountain Productions and Adventure Video
Registration Information
You can sign up for the program either online or by mail. Choose your preferred option below.
---
Option 1: Register online. Pay in full or put down 50% now to reserve your spot. Regular class price is $1925.
This program is now full. Please contact Margaret about the waiting list.
---
Option 2: Register by e-mail or post mail. Download the following form, fill it out and send it in.

Registration Form
---
Additional class forms and information:

Skiing Assessment
Questionnaire
Class Schedule
Related Links

"I believe that the unity of mind and body is an objective reality. They are not just parts somehow related to each other, but an inseparable whole while functioning."
— Moshe Feldenkrais
What Her Clients Are Saying...
"I learned that I could move my whole body to help me "dance" down the mountain. I was much freer to experience the freedom and joy of being in the moment skiing and feeling the terrain. I loved the pre-ski movement sessions and was amazed at how much freer my body became through gentle movement and awareness – no pushing or stretching to achieve it. Meeting and mixing with the other participants was wonderful. What fun to meet with such a variety of wonderful women. "
— Rhea