Awareness Through Movement®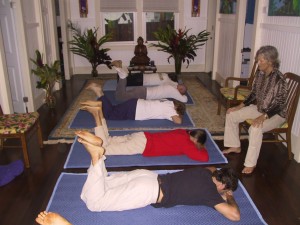 In Awareness Through Movement lessons, students are verbally guided through precisely structured movement sequences designed to help each student individually discover easier ways of moving and improving specific functions. The practitioner creates a safe, learning environment, and through a process of awareness, exploration and feedback, the student becomes aware of habitual and limiting neuromuscular patterns and then finds new options for more efficient ways of functioning. Improvement of posture, walking, running, climbing, sitting, reduction of pain, and all human actions can be significantly and spontaneously improved with this work. Awareness Through Movement lessons are usually done lying or sitting wearing loose, comfortable everyday clothing.
What Her Clients Are Saying...
"The smallest adjustments in body movement with Feldenkrais have led to big changes in my balance and rhythm in everyday life, and even my golf game."
— Jane Thompson